Wow! Today was a very exciting day at Kingswood South Public School. We celebrated our 50th birthday and had a great time with all members of our learning community. To commemorate the special occasion, every student and staff member received a fantastic medal. This is what it looked like:
What a special keepsake to remind us of this wonderful time! Many thanks to our hardworking P&C for providing the medals. Here are our two Student Representative Council members, J and A, receiving medals for 2R class members:
Our medals were presented at a special assembly, where the school's 50th anniversary plaque was also unveiled by our School Education Director, Mrs Summerhayes.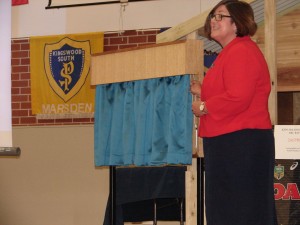 Following the unveiling of the plaque, our principal, Ms Martin and P&C President, Mrs Wrona opened the KSPS time capsule from 25 years ago. Check it out below:
We found samples of writing from students and some other documents. It made us think about what we would like to put into our time capsule for KSPS community members who open it in 50 years' time!
After the assembly, 2R went to visit the 50th Anniversary garden, laid with pavers containing names of past and present KSPS community members.
What a fantastic day we had!